In an unprecedented year for entries, the 12th 'Oscars of Hertfordshire' were a spectacular celebration of the county's outstanding businesses and the talented people that work in them.
The Inspiring Hertfordshire Awards enable local businesses to showcase their performance and achievements to clients, customers, suppliers, stakeholders and to all of the county's business community.
In our third year as joint headline sponsor of the awards, we were delighted to be back at the stunning Harry Potter Studios. Mingling with the finalists, sponsors, honoured guests, and the dedicated Hertfordshire Chamber of Commerce (HCC) team amongst the props and sets of Harry Potter, the excitement was tangible.
As the presentations progressed, the list of finalists for the highly coveted 'Inspiring Business of the Year' award grew. Selected from the winners of all the other category awards, this special recognition is reserved for the organisation that makes the judges stop and say 'wow'!
As joint headline sponsors, SA Law was delighted to join Viatris on the stage to present the Inspiring Business of the Year 2023 award to…Goods for Good.
Commenting on the winner's dynamic approach to problem solving, SA Law Partner, Tracy Lacey-Smith, said: 'Goods for Good stood out amongst all the very impressive winners for being able to do good in many directions all at the same time by relieving poverty and responding to humanitarian disasters in a way this is sustainable and helpful for the planet.'
Our thanks go to the Hertfordshire Chamber of Commerce team for the excellent support they provided to the sponsors and entrants throughout the whole awards programme, making the awards programme so special.
Congratulations to all the 2023 finalists and winners. Your stories are nothing short of amazing and we wish you every continued success.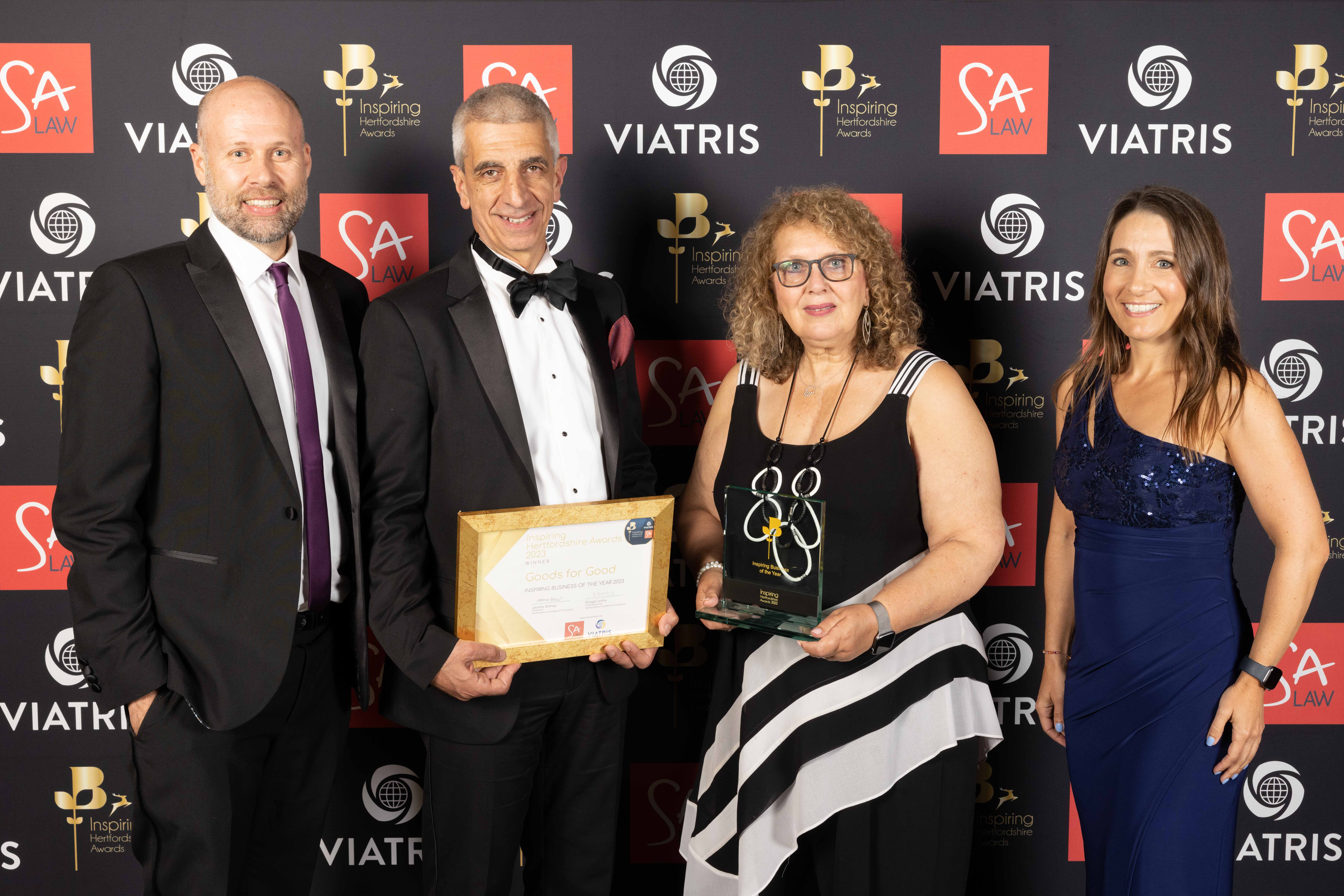 Inspiring Business of the Year 2023 winners, Andrew Anastasiou and Rosalind Bluestone MBE of Goods for Good (centre), pictured with IHA joint headline sponsors Matt Salzmann of Viatris (left) and Tracy Lacey-Smith of SA Law (right).
Winners and Highly Commended entries 2023
Special recognition awards
Inspiring Business of the Year
Winner – Goods for Good
Outstanding Contribution to Business
Winner - Kane International Ltd
Awards by category
Business of the Year East Herts
Winner - Green Building Design Consultants
Highly Commended – Air Energy
Business of the Year North Herts
Winner – Tier 2 Consulting
Highly Commended – CSD Automation
Business of the Year South Herts
Winner – Sustainable X
Highly Commended – Hour Hands; Crane & Staples
Business of the Year West Herts
Winner – Goods for Good
Highly Commended – One YMCA
Business of the Year Medium to Large
Winner – Quanta Consultancy Services
Highly Commended - KGK Genix
Business of the Year Small to Medium
Winner – LBS Distribution Ltd
Highly Commended - Rigging Team
Apprenticeship Champion
Winner - DLRC
Highly Commended – HB Accountants
Best Use of Technology
Winner – Labrums Solicitors
Highly Commended – Lumin Wealth
Community Champion
Winner – East and North Hertfordshire Hospital's Charity
Highly Commended - Resolve
Diversity and Inclusion Award
Winner – Pages Care Farm
Highly Commended - Pohwer
Entrepreneur of the Year
Winner – Andy Kennedy, Tier 2 Consulting
Highly Commended - Chris Pykerman, CSD Automation; Lucy Dore, Recruitment Index
Excellence in Business Diversification
Winner – Aldenham Estate
Highly Commended - One YMCA; Watford Community Housing
Excellence in Customer Commitment
Winner – Air Energy
Highly Commended - Herts Executive
Excellence in International Trade
Winner – Air Energy
Highly Commended - Innovative Trials
Excellence in People Development
Winner – Tier 2 Consulting
Highly Commended - Quanta Consulting Services
Family Business of the Year
Winner – LBS Distribution
Highly Commended – Sopwell House
Green Award
Winner – KGK Genix
Highly Commended - Nimbus Hosting; Electric Umbrella
Most Promising New Business
Winner – Recruitment Index
Highly Commended - Midnight Blue Marketing
Property & Construction Project of the Year
Winner – Green Building Design Consultants
Highly Commended - RDT Architects
Workplace Wellbeing Award
Winner - Kestronics
Highly Commended - Focus7