On Sunday 23 April 2023, at 3pm, there will be a national test of the UK Emergency Alerts service. Domestic Abuse victims are warned to turn off secret or hidden phones ahead of the test to prevent revealing the location of the phone.

Emergency Alerts is a UK government service that will warn you if there's a danger to life nearby. In an emergency, your mobile phone or tablet will receive an alert with advice about how to stay safe in circumstances where there is a danger to life and limb, for instance, due to severe flooding, fires or extreme weather. Emergency alerts will only be sent by the emergency services, government departments, agencies and public bodies that deal with emergencies.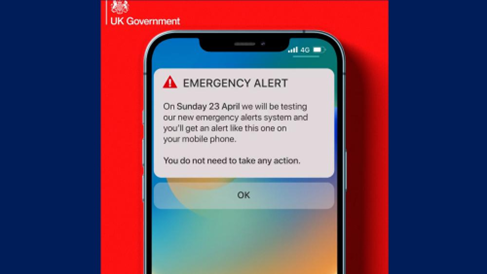 There will be nationwide test of this service on Sunday 23 April 2023 at 3pm when a siren-like sound and vibration will ring from your mobile phone or tablet and will last for approximately 10 seconds. You do not need to take any action when the siren begins. All you need to do is swipe away the message or click "OK" on their phone's home screen and continue to use your phone as normal.
Fears for Domestic Abuse victims:
Victims of domestic abuse have been advised to turn off secret phones and devices (the alert will still ring if the phone is on silent) as there are fears that the test could give away the location of secret devices. The government has confirmed that the alert will not sound if the phone is switched off or put on airplane mode.
Domestic violence campaigners have warned that the test could put people in very real danger by revealing the location of secret phones hidden away by those at risk. At every stage, the Government has worked with organisations and charities who represent vulnerable groups to make sure they are not adversely affected. Women and girls who are subject to domestic abuse and have concealed phones can opt-out of the national test either by turning off Emergency Alerts in their phone settings or by switching their phone off.
Emma Pickering, the senior operations tech abuse manager at Refuge, said: "Next week, the government plans to send a test alert to all devices including tablets, as well as phones. These alerts will come through as a loud siren even if devices are on silent, and could alert an abuser to a concealed device.
"Refuge's technology-facilitated abuse and economic empowerment team have put together two videos on how to turn these alerts off, both on Android phones and on iPhones for anyone that is concerned that these alerts will put their safety at risk. We want to ensure as many survivors as possible know how to ensure these alerts are turned off on their hidden devices.
"We have more information on securing your devices – for example your location settings or privacy settings – on refugetechsafety.org."
Once the broadcast of the signal stops, the alert will not sound. Therefore, unlike with an SMS, phones being switched back on afterwards will not belatedly sound the alert.
If you are a victim of domestic violence and have a secret phone, be sure to switch it off before 3pm on Sunday 23 April 2023 or change your alert settings.
Children with secret phones:
Similarly, if your child has a phone when visiting the other parent for contact, and you are worried that the other parent will be alerted to the phone, be sure to have the phone switched off or ensure the child knows to switch the phone off before 3pm on Sunday 23 April 2023.

We encourage you to share information about the alert and test on 23rd April 2023, if safe to do so, in order to help spread awareness and prevent risk for victims of domestic abuse.

For more information or if you have any questions which have not been answered in the above article, please contact Sonal Parekh at SA Law via email: sonal.parekh@salaw.com